Lie of the land / how it feels / symptoms and causes
Neck pain is very common particularly as we get older. Our lifestyle and occupation often contribute to the postures and positions we hold our neck in and this contributes to the cause of a staff and painful neck.
Unless caused by a sudden trauma, neck pain often begins gradually from repetitive and prolonged periods of movements, positions and postures that strain the muscles around the neck and irritate the nerves.
You might also feel:
Constant dull ache across the neck or on one side of the neck
Sharp piercing or poking pain with specific movement
Frequent headaches
Restricted movement with pain, trouble looking over your shoulder
Neck problems frequently refer pain to the shoulder, even down to the hands. It can include numbness, pins and needles, a sense of weakness in the arm or hand. Likewise a shoulder injury can refer pain up to the neck.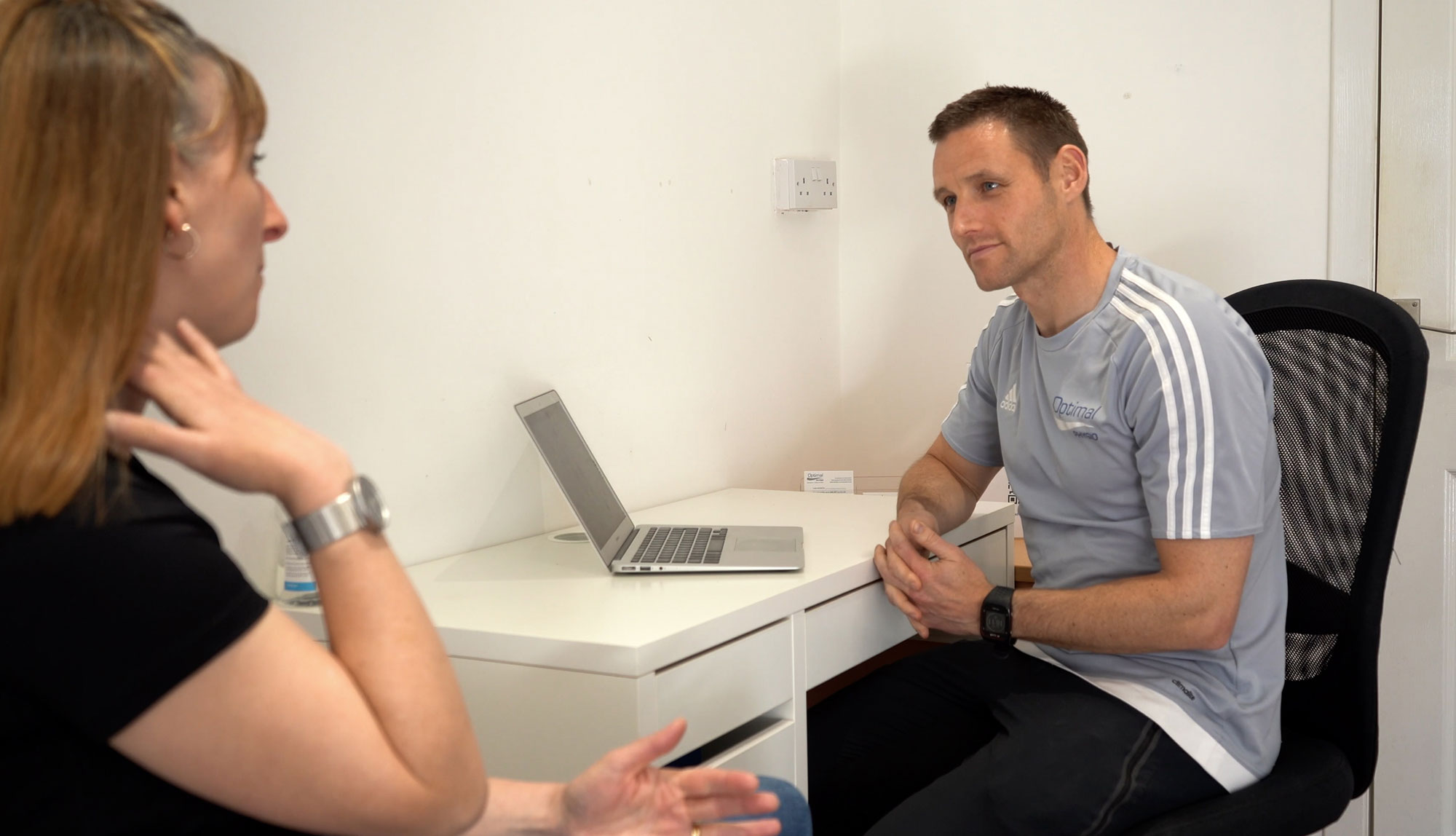 Worries, fears and concerns
Neck pain and stiffness can make the simplest of tasks a trial, can stop you sleeping and affect your ability to turn and drive. Many patients report feelings of nausea and headaches as a result of neck pain.
You can't sit comfortably, you have a headache, turning your head sends a lightening bolt of pain through your neck and shoulders, you are grumpy and tired and the discomfort is making a good night's sleep impossible.
Treating neck pain means finding the underlying cause.
Sitting at a poorly set up office space at home and hot-desking at work.
Spring cleaning and DIY jobs straining your neck as you cut hedges and hang curtains.
Old or uncomfortable pillows not giving your head and neck the right support and alignment.
Lack of mobility, referred pain and particularly numbness can make you concerned that there is something more serious at work.
Myth busting, explanations and stats!
Neck pain can develop suddenly from an injury, or it may develop slowly over time, from years of poor posture or wear and tear.
Whether whiplash, sustained poor posture or repetitive activity the damage over time can result in irritation of the nerves, resulting in neck pain.
The most common cause of neck pain with referred arm symptoms is a bulging disc or spinal joint problem caused by poor posture.
Your neck is very mobile and is comprised of many small joints held together by ligaments and supporting muscles. These upper vertebrae support the weight of your head, which is a lot heavier than people appreciate.
They allow you to bend, flex and rotate your neck but are extremely sensitive and if asked to do too much of the work, a sore or stiff neck is a common outcome.
While a pain killer may relieve the pain temporarily unless the underlying cause is treated it will return.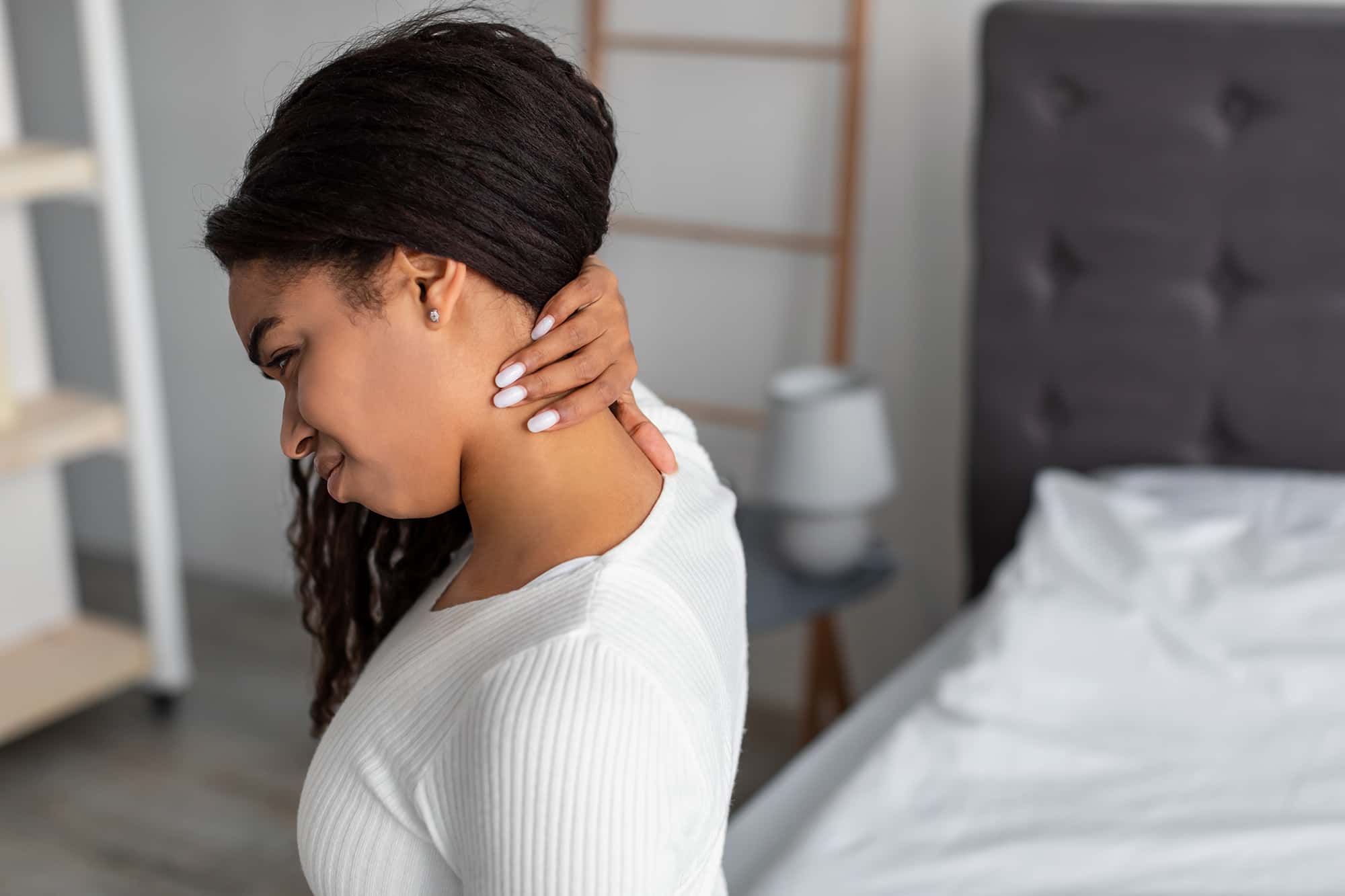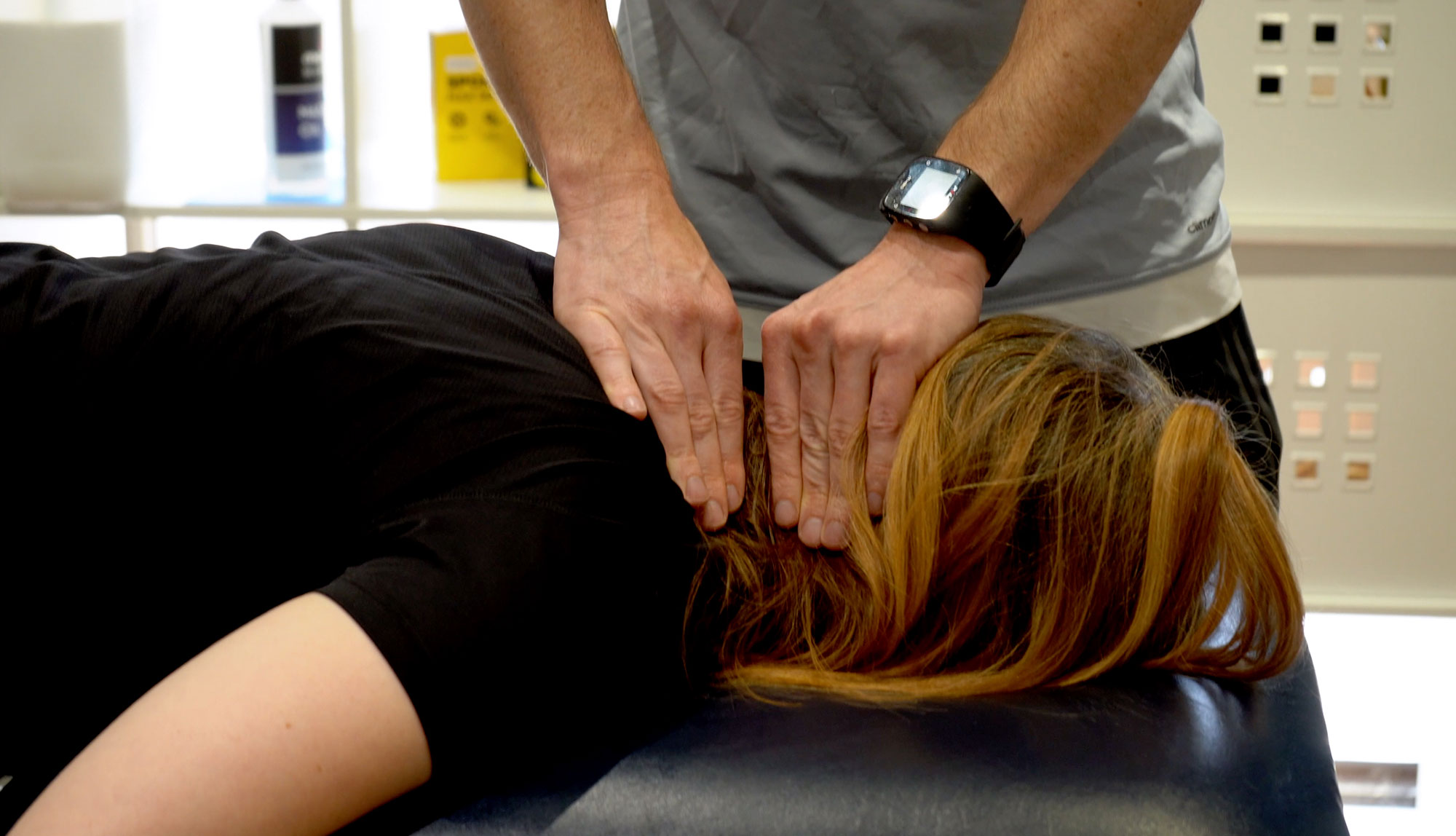 What we treat and who we don't treat
Whether you have been involved in an accident, suffered an injury, experience episodes of neck pain at times of stress or you suffer from a stiff neck due to lifestyle factors, we can help.
There is plenty our experienced physiotherapists can do. We will assess you thoroughly and find out the cause of your pain, then help you to get into the optimal condition through joint mobilisation, soft tissue release, exercises, advice, acupuncture or taping.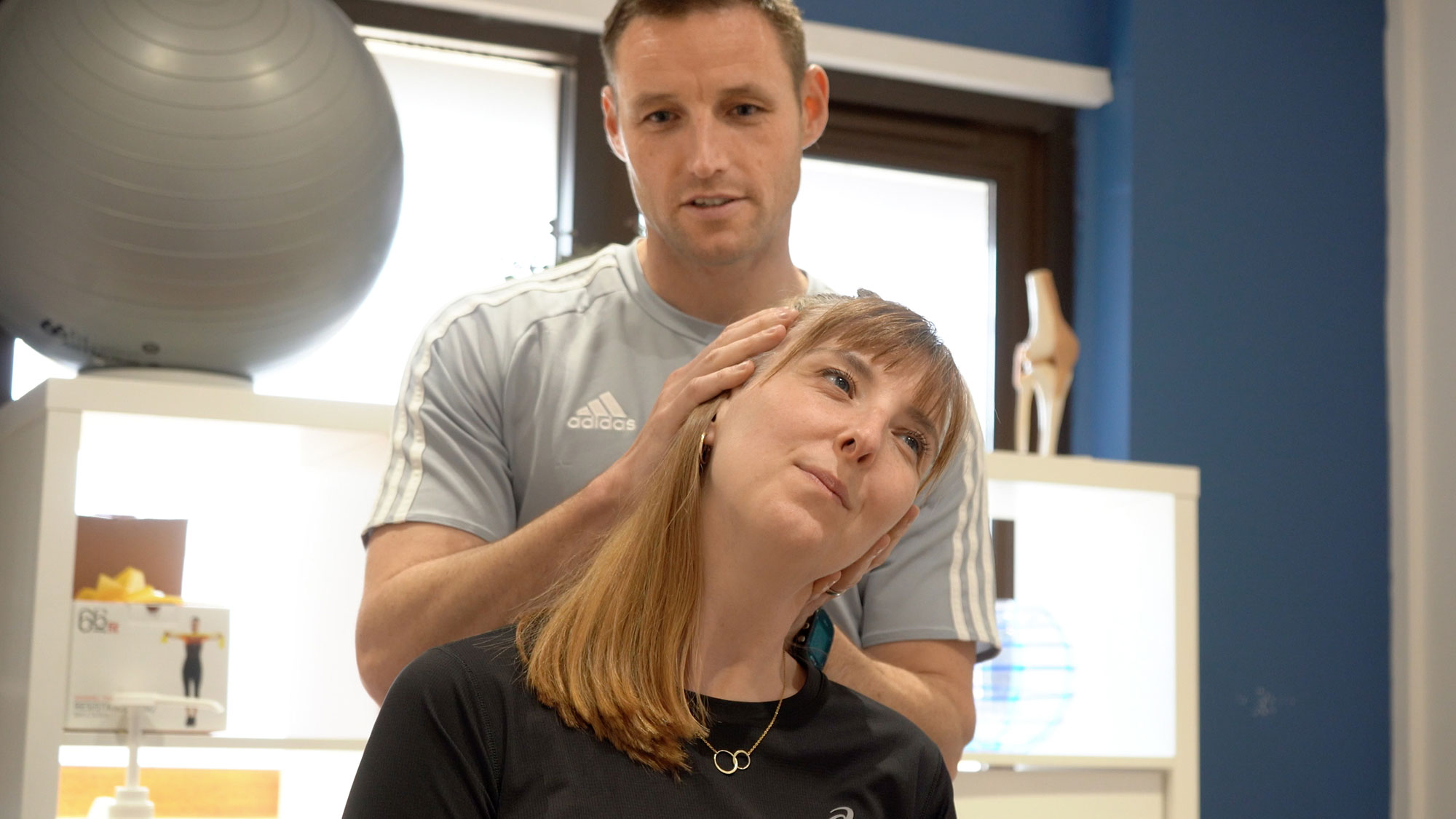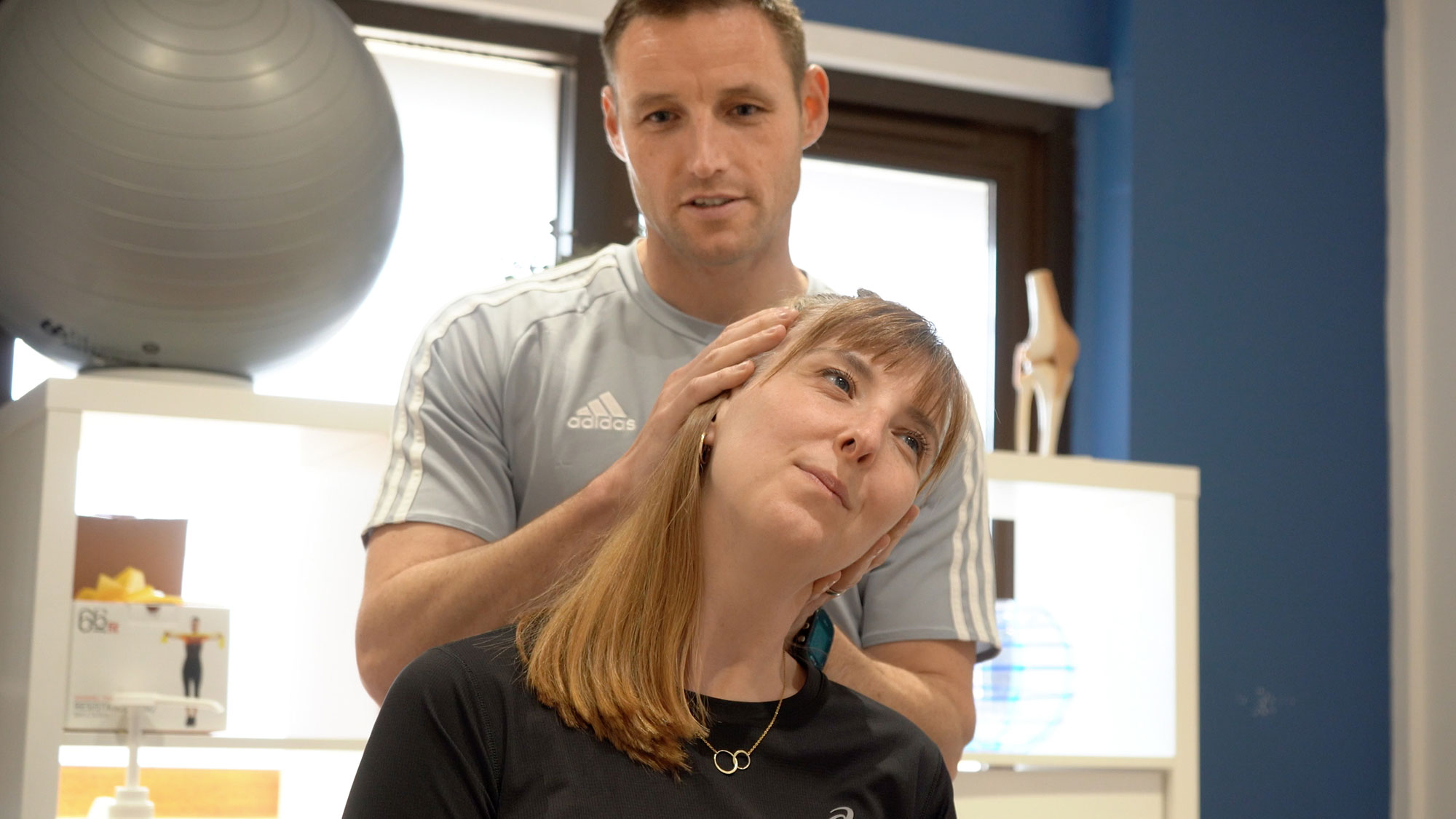 Knowing the causes WILL allow you to take steps to not only relieve pain but increase mobility, coordination, balance and strength, meaning it is less likely to affect you in the future.
Although pain may be relieved relatively quickly recovery is also a gradual process where it is essential to restore the strength followed by endurance, co- ordination and balance to return to pre-injury level.
We will equip you with strategies to adapt your day to day activities and environment to minimise the risk of neck pain returning.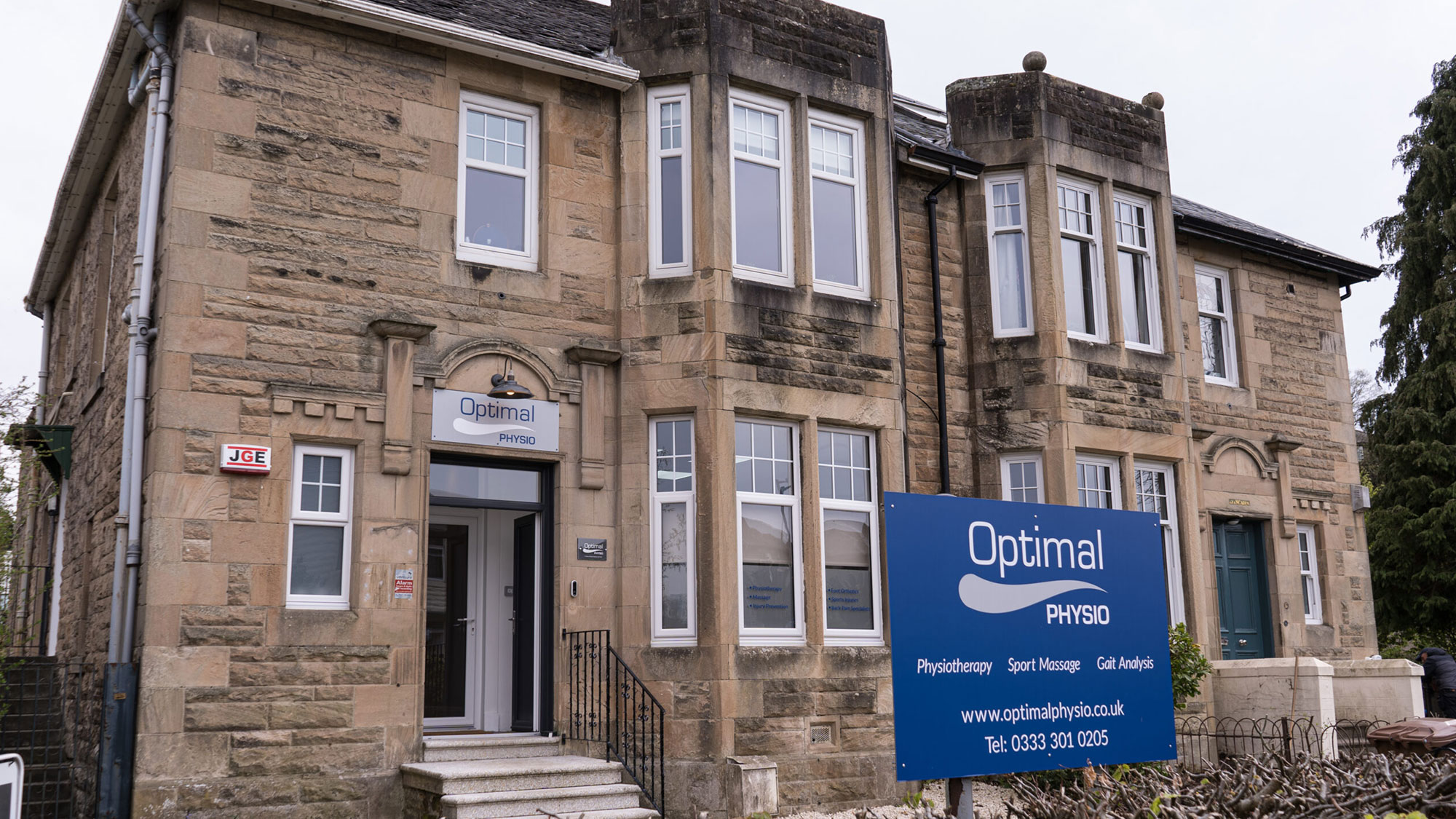 Just thought I would drop you a quick line to let you know I successfully completed the Kilmarnock Room The Toon 10k yesterday. Managed it in a reasonably respectable (for me) time too. I couldn't have done this without your guidance and support over the past couple of years and just wanted you to know I really appreciate it. Two years ago I was advised to stop running altogether so yesterday was a real milestone for me.
Resulting from a fall while carrying a small table, I damaged my foot and got what is called a dropped arch. I have a very high instep. This injury caused me much pain which seemed to be getting worse and more debilitating. Following advice from friends, I decided to make an appontment to see Steven and what a good decision that was. In the first place, Steven is a really good listener while he assesses the situation. Then he gives the problem much care and attention plus the benefit of his experience. Steven uses the latest equipment to diagnose the problem but he also has a 'hands on' approach to investigate the source of the problem. Thanks to the exercises he advised me to do, my foot is better and pain- free. Thank you Steven.
Just thought I would drop you a quick line to let you know I successfully completed the Kilmarnock Room The Toon 10k yesterday. Managed it in a reasonably respectable (for me) time too. I couldn't have done this without your guidance and support over the past couple of years and just wanted you to know I really appreciate it. Two years ago I was advised to stop running altogether so yesterday was a real milestone for me.
I cannot thank Steven enough for the expert advice, guidance and physio he provided me when an injury I had left me thinking I would never run again. I wouldn't hesitate for a second recommending him to anyone and can honestly say I'm now pain and injury free after living with this for 2 years. Last night, within a week of being signed off by him, I ran 5km in 27:38 (a time I haven't achieved for almost a year). I'm now a massive step closer to getting back to the times I used to run, pre injury. I could not have done this without Stevens expertise and dedication. It was an injury I did not think would ever go away due to the nature of it but thankfully and gratefully, Steven was able to prove me wrong (he knew all the time that it would!) Highly, highly recommended Steven to anyone.
First of all, I wanted to thank you for the nutrition guide you put together. I wasn't expecting it to be in such detail. I'll use this to properly re-evaluate my diet for the coming months which I'm sure will be more than helpful, so thanks again! The recent BUCS regatta ended up being probably the most successful regatta for the Strathclyde team (and me!) ever. I won a bronze medal in the lightweight quad, silver in the lightweight double and somehow got gold in the lightweight single, which has been the dream for quite a number of years now! I really can't than you enough for all the help you've given me this past year, there was certainly a few points where these kind of results felt like a bit of a hopeless area. The whole regatta was by far my best performance ever, and a big chunk of that was down to you! So thank you again, I'm going to relax a wee bit now before the next lot of racing but I'll look to come in for a check up before the start of next season.
Thanks to Steven's knowledge, care and attention to detail, I'm playing tennis pain-free for the first time in a year. I'd been having severe pain in my heel during and after matches. It had started to affect both my performance and day-to-day life. I attended Optimal Physio where he assessed and then analysed my gait, using his foot scanning equipment. Steven was able to pinpoint where the issues in my heel and foot lay and why the pain was occurring. I was given a personalised programme to follow to help improve strength in my heel, and Steven also developed customised orthotic insoles to give me further support in my feet. Steven's after care has been first-class and I'm back in business, feeling fitter than ever. No more heel pain. I'd highly recommend Steven and the Optimal Physio team.
I'd just like to say how much I appreciated the treatment I have received from Steven. A few months ago I was plagued with neck and shoulder pain but in a few sessions he was able to give me a complete understanding of the underlying issues and exercises that mean I am now pain free. Great work. Very professional and pleasant manner. Absolutely recommend him to anyone looking for a physio.
Both the treatment & advice you provided was excellent including how best to prevent further injury. I think it is important to follow your advice & by doing so I am now running injury free. Thanks for your help.
Thank you to Pamela for her professional services and support after the operation to my foot. It is good that you are located in the Marina area at Largs with good parking available and easy access. Your advice and exercise programme was most welcome and helped speed my recovery. The online booking system was a real bonus in arranging appointments.
Since beginning regular sports massage with Sarah my legs feel looser and more flexible. Sarah is also happy to arrange appointments around my training schedule. Great service, highly recommended.
My story is simple. I had been suffering for years with a lower back problem. I had tried every type of potential solution e.g. chiropractors, NHS, private health. You name it I tried it. My back pain got so bad my quality of life was severely affected to the point I couldn't do simple tasks. That was until I met Steven McLean. From not only a superb physical approach to my problem Stevens' positive attitude and motivational coaching were fantastic. After 3/4 months I was back playing golf to a reasonable level again. My quality of life has returned and it is all thanks to the fantastic work Steven has put in. I cannot thank him enough and I have recommended him to other friends and family who have also had the same experience and outcome. Quite simply superb.
I am hugely grateful to Steven for successfully treating a sports related injury I had in my back. I went to see him with my injury a couple of weeks before I was competing in a powerlifting competition so it was important that I was in peak physical condition. Steven quickly diagnosed the exact problem area, effectively treated it and gave me relevant exercises to carry out myself. By the time the competition came, my back was feeling great. He was extremely friendly, approachable and professional throughout. Now that my injury has gone and my competition is over, I'm very much looking forward to booking in with them for a sports massage to relax and unwind! I would have absolutely no hesitations in recommending Steven and the rest of the Optimal Physio team.
I've been working closely with Steven and the team at Optimal Physio for a number of years now. Running a busy personal fitness company I witness many niggles, muscular imbalances and postural problems amongst my clients. I've had no hesitation in sending them to Optimal Physio. I'm always confident their professional, thorough and effective approach will return to me a client in a healthier and happier condition with a clear and structured plan for their road to recovery.
Definitely the most beneficial massage treatment I have had for my aching back and shoulders. No longer aching every night I get into bed. Sarah's treatment is very specific and definitely gets to the core of the problem. Looking forward to my next massage!
After having ACL surgery, Optimal Physio provided me with first class treatment and advice to get me back to where I wanted to be as quickly and efficiently as possible. Being able to book appointments online made things easier for availability to suit me. The professional and sound diagnosis made my aches and pains easier to overcome as I could trust the therapy and programs Optimal Physio provided. I would recommend Optimal Physio to anyone as you can trust the hands-on examination will be as efficient and on point to aid your needs.
4x Senior British champion 4x Senior British Open Champion 2x European Junior Bronze Medalist 2x Senior World Championship - 7th place World University Championship bronze medalist I have been going to Optimal Physio now for a couple of years and I have complete faith in Steven's knowledge with sporting injuries and sport massage. He has played a key role in ensuring my body is prepared for highest level competitions. Having a great physio is a vital part of any athletes support team and I want to say thank you for everything you do for myself and our team.
I would highly recommend Steven if you are looking for a physio, not only did he help identify the cause of my problem quickly, he provided simple, effective ongoing support and advice to ensure I was fighting fit again. He was also extremely adaptable in fitting appointments around my work commitments, which was very helpful to me. Top Qualities: Great Results, Personable, Expert
I would like to thank Steven for all the help I received with both my ankle and hamstring injuries. A very thorough and professional service provided with lots of additional help not only with my rehab but gaining my confidence and fitness back. Steven's friendly and easygoing approach enables you place total confidence in his abilities and judgement. The time scale predicted for my return was very accurate and I was not rushed back into action before I was ready physically and mentally. Compared with many other physio's seen before, Steven is a stand out. Not only was I given a comprehensive rehab programme but it was also explained what was being done. Would highly recommend Steven anyone, great guy and brilliant service and results, Thanks again. Top Qualities: Great Results, Knowledgeable, Friendly, Expert
It is hard for me to praise Steven highly enough following my recent treatment and rehabilitation from an injury which was to be the end of my sporting activities. He has defied the opinion of a prominent hospital consultant by analysing and very quickly understanding my condition, specifying an exercise programme to meet the needs of overcoming my injury and executing this plan over a relatively short period of time. The uncomplicated way in which he explained how we would move forward and what was expected of me made this a very enjoyable and productive process. Steven is undoubtedly very talented in his field and along with his patience, encouragement and professional approach I would recommend him to others with confidence. Top Qualities: Expert, Sports Injuries, Great Results
Graeme started treating me 15 months into a back injury which had stopped me running. From the outset he was confident that I would get back to running. His advice and treatment were excellent and I am now running regularly again. His 'can do' approach was crucial to my recovery and I would wholeheartedly recommend Optimal Physio.
I am glad I found Steven as I have had back problems for years. After just a couple of visits there was a great improvement in my condition. I wish I had found Steven ages ago as I am sure I would have had years of pain free back problems. Try him, he is superb.
Bill Hands
Download your free ebook.
There is a lot of misleading and inaccurate information available relating to knee pain. So we have made this ebook to give you free information you can trust. Enter your details below to receive all the latest Optimal Physio news and offers, we'll also give you a free e-book.
Click below to book your appointment easily online or arrange your free fit for physio consultation. If you'd like to read more about knee pain then you can download our free ebook below!